Your Favorite Children's Dentist in Portland
Pediatric Dentistry for Kids of All Ages
It's important to make sure parents and young children understand how to look after their baby teeth and set in place the habits that will carry forward for the emergence of their adult teeth. Dr. Agee works with parents to teach children dental hygiene skills like brushing and flossing to ensure a sparkling and healthy smile that lasts a lifetime. 
We carefully explain everything during their pediatric dentistry exam and treatment, particularly to our younger customers, taking the time to explain it to them in easy-to-understand words.
Your Child's First Dentist Visit
At Portland Family Dentistry, Dr. Agee and his team have that special touch for making children comfortable and happy at the dentist. From the first baby teeth through the teenage years, your child's unique dental health needs are our top priority.
In most children, the first tooth will usually erupt between the ages of 6 and 12 months. Dr. Travis Agee suggests your child visit him as soon as you notice that first tooth. He can suggest the best ways to clean your child's teeth, explain what to expect during the teething years, and help you prevent and diagnose any dental problems at an early stage of development. 
Get into the habit of regular preventative visits at Portland Family Dentistry early to give your child a healthy set of beautiful teeth.
Tooth Sealants and Fluoride for Children
Regular brushing and flossing lowers your child's risk of developing cavities. But kids aren't known for their dedication to brushing and flossing, which can lead to cavities. 
With no fluoride in the water in Portland, it is crucial that children get daily fluoride supplements starting at a very early age. Permanent teeth are developing at birth, so it is critical that every child visit a dentist before their second birthday to ensure they have the strongest, most decay resistant teeth possible. 
Studies have shown that sealants can reduce tooth decay by as much as 100 percent, so it's no wonder the American Dental Association recommends sealants as soon as the first adult back teeth come in at age 6 or 7. 
Dr. Agee will continue to apply a sealant as each back tooth comes in, up until about age 13, when most kids have gotten their second set of molars.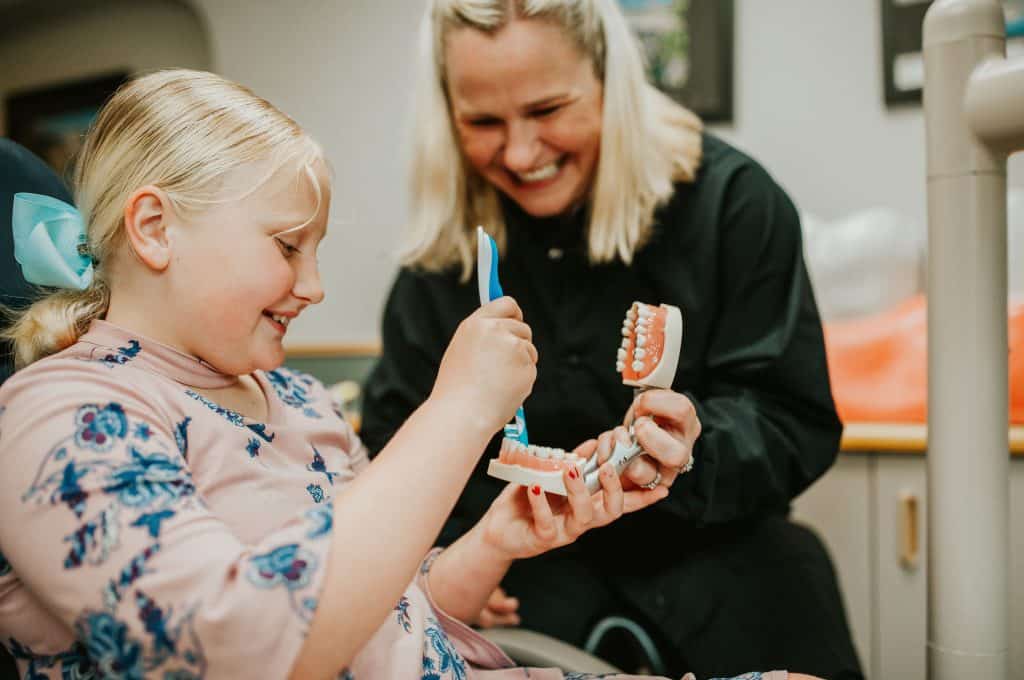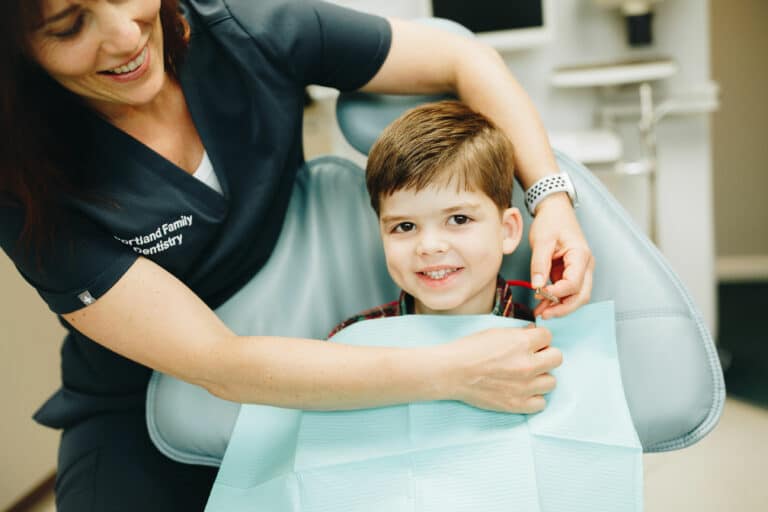 FAQ About our Portland Children's Dentistry